Replace Text
Overview
|
Installation
|
Usage
|
Version History
|
User Comments
|
Download
Overview
Replace text will find and replace text in various fields (Album, Artist, Composer, and Title) in the selected tracks.
Installation
The installation of this script is not yet automated and (unfortuantely) is several steps long. If you have trouble following the instructions, please respond to the email that the scripts arrived in.
Install the WCHandy osax. The WCHandy.osax file on the disk image should be copied to the ScriptingAdditions folder, in the Library folder, in your home directory. Create the folder if necessary.
Install Pashua.
Install the AppleScript Loader. The install script will ask if you want to install into the Local Domain (for All Users) or User Domain (just for you). Installing to the local domain creates a folder /Library/Scripts/ASLibraries/, installing to the user domain creates a folder Library/Scripts/ASLibraries/.
Install the PCS Dialog Library and PCS String Library. Copy the folder to the folder created in the previous step.
To keep ProgBar and Loader from showing up in the dock I would suggest using Dockless.
Usage
After running the script the main window will appear. It is the only window that the script uses.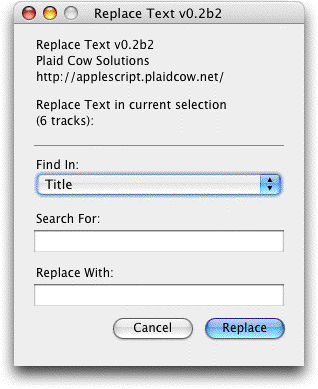 Type the text to Search For and the text to Replace With into the labeled field. (If the search for field is left empty then the script will beep and reshow the dialog.) Then select the field to do the replacement in from the popup menu. Album, Artist, Comment, Composer, and Title are available currently. If you would like a larger selection let me know which fields should be added.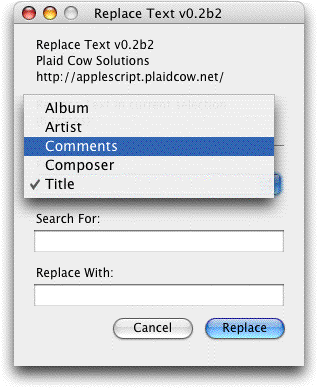 Version History
TODO List
Allow for Non-Case Sensitive replacement.
Add an About Dialog...
Add a progress bar.
0.3b1
(January 29, 2006)
Use the preferences pattern to store the recent field information
Now using the busy cursor routines from the PCS Dialog library
Main Dialog GUI is now a local variable (instead of a property)

0.2b2

(March 1, 2005)

Display an error and redisplay the main window if the search for text is empty.
Allow for replace in selected tracks or in current playlist.
Add affect track count to top of dialog.
Pashua is now used to create the GUI.

0.1.3

(August 2, 2002)

Added the email address to the main window.
Removed the non-functional "About..." button.

0.1.2

(August 2, 2002)

Added a using terms from clause to allow the dialog to always be opened in iTunes.
Added a status message box.

0.1

(August 1, 2002)
User Comments
No user comments are available yet. You can make a comment on this script and I will add it here.
Download
Files are not yet available for download. You can make a request via email.